We are a quiet and attentive audience, this second night. If 'comedy is truth plus pain' there is plenty of that, in principle, although 'comedy of insight' may be a better descriptor. But it's not geared to make us laugh out loud. Our compulsion to search beyond the deceptively whimsical 'windows' – somewhat warped and playfully reflective – tends to divert any rising mirth.

In The Wars is deeply insightful, profoundly humane and not to be missed.

Reviewed by John Smythe, 18 Aug 2017
"It's the art of invisibility" says one of the characters of the six stories of "In the wars" Nothing, except the light that allows us to see, but unseen itself, can rival with the invisibility of love. Love, what a used word, raped and exploited word. War love. War stories. Stiching love. When war is the fatherland of bad politics, love can be our refugee…
I see "In The Wars" as a short stories book. I love this contract one establish with the audience: first one story, then the second one… in our case you can count until six cause this is the number of stories that we are going to present you. Many things have been said about the significance of telling stories: to answer questions that we haven't already put to ourselves, to take us to some places where we still don't know their names, to create disorder in a world ordered by the most powerful… Stories can talk about love, pain, the unknown better than in philosophie. In our case we have used a classical device in literature: to put a secondary character of several wars in the forefront: a dog, a barbie, a ring, an unknown daughter… Cause this is another power of the literature converted into theatre: to give voice to the ones that normally don't have it.
Jorge Picó, director.
Writer and actor's note: Juliet O'Brien
Two years ago I had the privilege of seeing the photography exhibition, » The most Important Thing» by Brian Sokol. This exhibition was a collection of photos the subjects of which were exiles holding the most important thing they could take with them when leaving their homes. There was a woman holding a ring, a young boy, a monkey, a disabled woman seated on her wheel chair and then there was one little girl who looked to the camera with the utmost dignity, positioning her empty hands in the air as if holding an invisible object. The photographer asked her what her object was, she replied: «It's my doll I left behind.» It was an extraordinary coincidence as at the time I was already writing and working with the idea that I would tell stories through the prism of an object or form other than human. From this particular photo however the scene of Leila and her abandoned doll was born.
At the heart of In the Wars are the stories of little boys and girls and fathers and mothers who have to flee their homes in search of a better life and in search of that one precious commodity, safety. The stories cover multiple territories: Iraq, Palestine, Rwanda, Afghanistan, Chechnya, New Zealand and France. Jorge Picó and I have endeavoured in this collection of tales to put light on the territories of love in these territories of war and to treat these stories from another perspective in order to find another door in to the complexity of War. A mother in the play says, «You have never known war.» This play is dedicated to the mothers who have never known peace.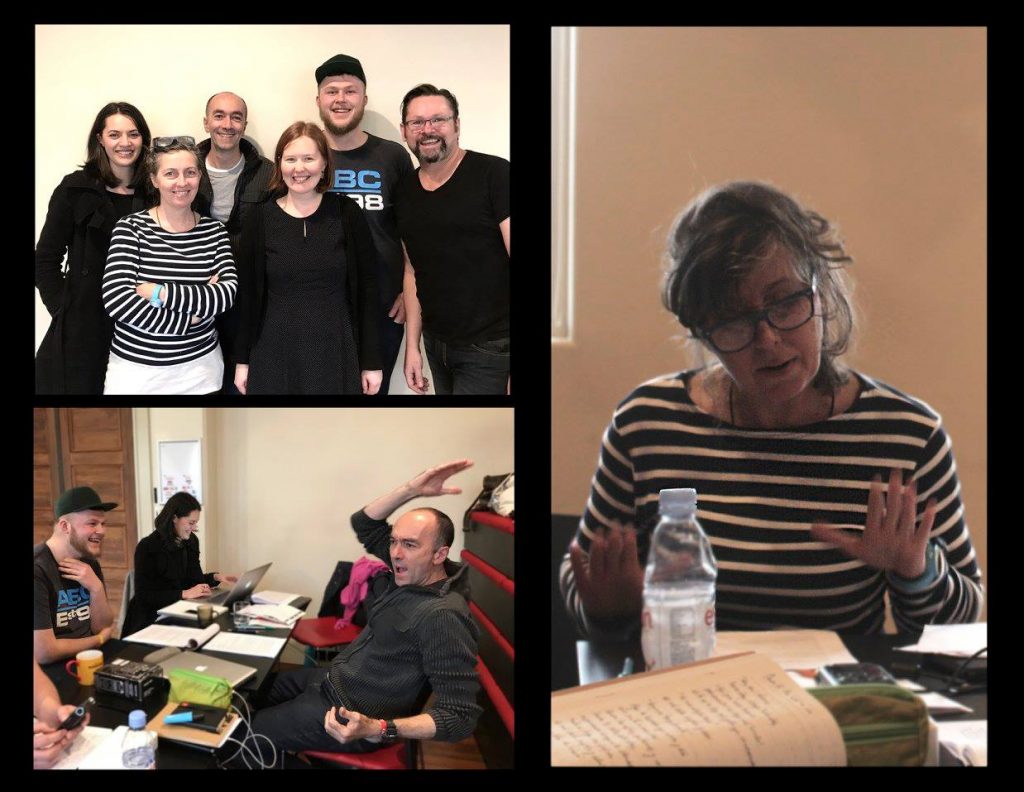 Creative team
Writer and actor: Juliet O'Brien
Director: Jorge Picó
Music composer: Gareth Farr
Set designer: Wai Mihinui
Lighting designer and operator: Jennifer Lal
Assistant director: Finn Shepherd
Producer: Sophie Lindsay.
Publicist: Cherie Jacobson
Graphic designer: Elise Wilk
Costume designer: Fabienne Desfleches
Lighting operator: Michael Trigg
Carpenters: Andrew Gibson and Blair Ryan
Acknowledgements
David Geary, Isabelle Labrousse, Helen Moulder, Maria Buchanan, Mary O'Brien and Tim O'Brien, Miranda Harcourt, Jonathon Hendry, Ken Duncum, Peter Hambleton, Tina Cleary, Kerryn Palmer, Vicente Mas, Bridget Hargreaves, Gustavo Garcia Rodriguez, Nathan McKendry and the team at Taki Rua, Nathalie Buckrell and the team at Alliance Française Wellington, Stephen and Katrina Drew, Théâtre de la Jacquerie, Théâtre Romain Rolland, Xochitl de León, Col.legi del Teatre de Barcelona
Our sponsors – a special thank you
Creative New Zealand
New Zealand-France Friendship Fund
Embassy of Spain to New Zealand
DEEPLY INSIGHTFUL, PROFOUNDLY HUMANE AND NOT TO BE MISSED
IN THE WARS
Written and performed by Juliet O'Brien
Directed by Jorge Picó
Original music by Gareth Farr
Presented by Plateforme Théâtre
at BATS Theatre, The Propeller Stage, 1 Kent Tce, Wellington
Until 26 Aug 2017
[1 hr 10 mins]
Reviewed by John Smythe, 18 Aug 2017
We've been steeped in war stories since the 2014 centenary of Britain's declaration of War against Germany in August 1914: 'The Great War'; 'The War to End All Wars'. Yeah right. Do I need to list all the wars since? Along with the books, plays, feature films, television dramas and documentaries, the daily news is littered with reports from contemporary war zones, not to mention warnings of impending possibilities.
If you think you're 'all warred out', however, fear not. In The Wars is a completely different take on the theme. Terms like 'unintended consequences', 'innocent victims', 'collateral damage' and even 'trickle-down effect' offer themselves as common denominators of the six stories that comprise this insightful solo show.
The set, by Wai Mihinui, is the first surprise: towering panels clad in high quality wallpaper that denote comfort and elegance – except for the odd angles, judiciously accentuated at appropriate moments by Jennifer Lal's lighting design. A long, narrow table has heavy, industrial legs at one end and classic turned wooden legs at the other; a plain chair at one end and a fancy one at the other are juxtaposed with an elegant tea set versus a single cup and saucer.
A glaring but silent brightness punctuates some scene transitions. Does it herald a new dawn of hope or yet another distant missile obliterating its target (or perhaps missing it and striking civilians, as so often happens)? Gareth Farr's music and soundscape contrast the ebullience of creativeness with the dull and resonant roar of destruction. Paradox riddles this play.
Writer/actor Juliet O'Brien has worked with her co-graduate from École Jacques Lecoq, director Jorge Picó, to develop In The Wars and, unlike The Letter Writer which premiered in France before gracing the 2010 NZ Festival, this world premiere was designed and rehearsed in Wellington.
The six different perspectives, all based on true stories, are ingeniously wrought to challenge our grey-matter before they engage our emotions. A gently rendered physicality informs and distinguishes each iteration, drawing us in without making a spectacle of itself.
Spoiler alert? I cannot discuss this show further without interpreting elements that are revealed subtly and intriguingly, although there is plenty more that I won't expose. The short message is, go: it's highly recommended. Read on or not as you choose.
Nothing is more innocent than a soon-to-be born baby. Hasha has gleaned her name from the conversations the "warmths" have in the unknown outside world. We become aware her mother is Yaeda, her father is Yiden and they are in Iraq. And everything that's happening is 'normal': the way it is. In counterpoint to her non-judgemental awareness, we are left to interpret and judge the objective reality of what she is being born into.
O'Brien personifies a Barbie Doll, donated to war orphans by an American child and brought to Gaza by an NGO, to offer the next telling contrast: broken nails versus smashed buildings; the delicacy of a tea party v the brutality of bulldozers clearing rubble. Again our understanding of the reality differs dramatically from hers (i.e. Barbie's) and the space between is where we discover, or rather create, the truth.
Two boots represent the deceased father of a Rwandan woman, determined to get him out to the middle of a lake rather than bury him in their war-torn land. The eloquence of the daughter's language and her abiding love compel us work to comprehend the atrocities that have led to this moment.
Who knew War Dogs sometimes need therapy? Here O'Brien morphs into a somewhat stressed 'shrink' who used to work in Cincinnati and now tends a whimpering 'Hero dog' somewhere in the Middle East. Then she is floppy-eared 'Corporal Brenda' herself, recreating the mine-detection mission that has traumatised her.
Epaulets clipped onto her basic khaki (costume design by Fabienne Desfleches) signifies the next transition into a soldier in Chechnya, although the focus turns to a large gold ring and the quest to win a hand in marriage. The ring's story harks back to Jason and the Golden Fleece; romance is undercut with mention of a father who taught fear and hatred (plus ça change, plus c'est la même chose); the question arises as to where true value lies … The ring reveals eternal truths as it lies in the ruins of war.
The final and most text-based scene brings a New Zealand perspective to war, wherein one Eileen Ramsay utilises the framed photo of a cavalry man and a carefully preserved jacket to appraise her daughter Rita of people and family histories yet to be recognised by Google. Her heartfelt, "I am so happy that you have never known war" reminds us how lucky we are, at the so-called 'bottom of the world' – a state wittily emphasised, to continue the inversions, with a poignant rendition of The Carpenters' 'Top Of The World'.
We are a quiet and attentive audience, this second night. If 'comedy is truth plus pain' there is plenty of that, in principle, although 'comedy of insight' may be a better descriptor. But it's not geared to make us laugh out loud. Our compulsion to search beyond the deceptively whimsical 'windows' – somewhat warped and playfully reflective – tends to divert any rising mirth.
In The Wars is deeply insightful, profoundly humane and not to be missed.
_______________________________
For more production details, click on the title above. Go to Home page to see other Reviews, recent Comments and Forum postings (under Chat Back), and News.